Join us Wednesday, September 21st at 6:00pm for our monthly School Board Meeting at Central Office. We would love to see you there.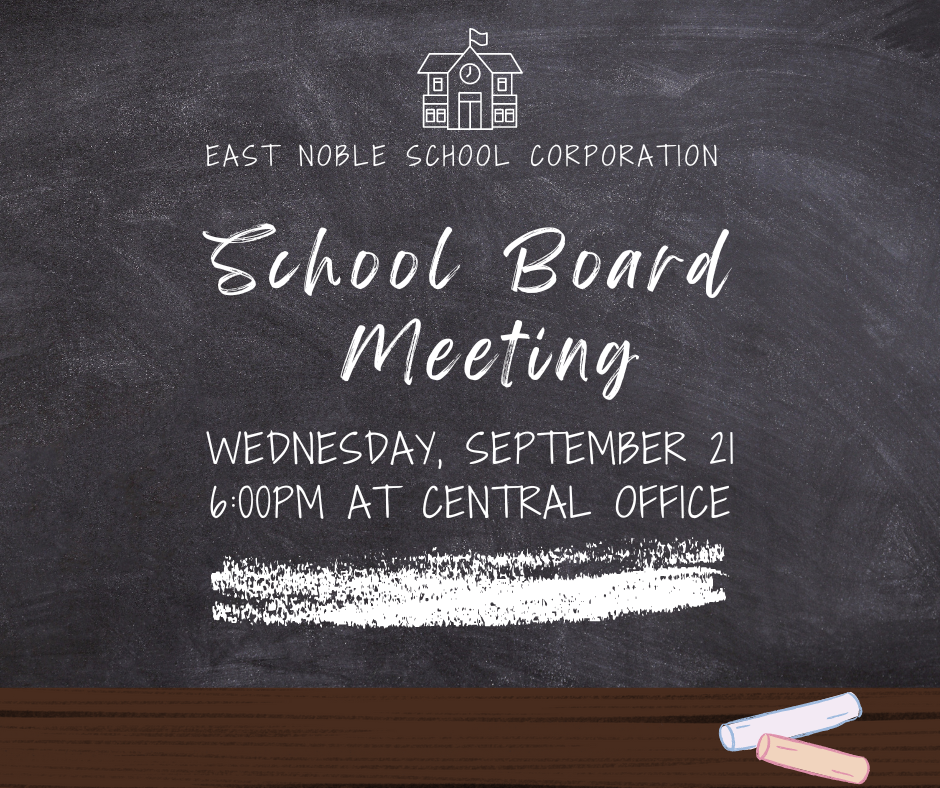 East Noble School Corporation will be on a two-hour delay on Tuesday, September 20.

East Noble School Corporation will be on a two-hour delay on Thursday, September 15.

Don't miss a chance to sit down and talk with Superintendent, Dr. Teresa Gremaux at these upcoming PTO/PAC meetings. If you are unable to attend any meeting in person and wish to attend virtually, please contact Jami Hall,
jhall@eastnoble.net
, to sign up for the virtual option. The virtual option is available for all of our schools.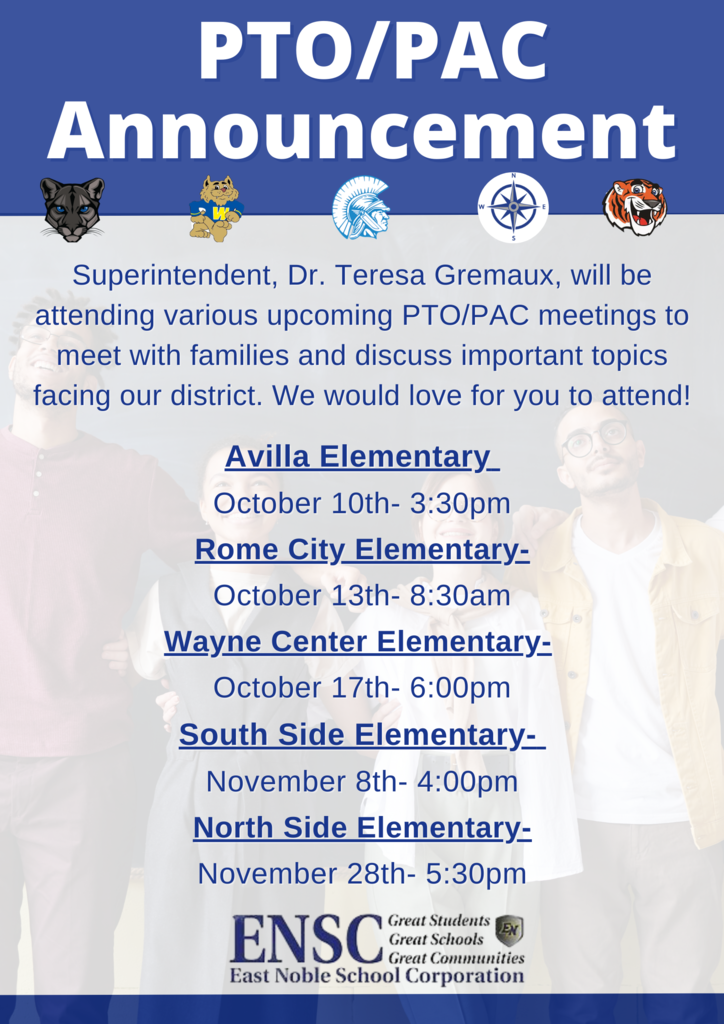 Knight Fans, make plans to be here early Friday night for the Varsity Knights football game. Tickets are $6. Gates will open at 5:30 pm. It will be blackout night, military appreciation night, the honor guard will make a presentation & we will have a Black Hawk Chopper fly over around 6:40. This will be a night you don't want to miss. We have been informed by the Indiana National Guard that both pilots for tomorrow's Black Hawk Chopper will be East Noble graduates, Evan Edwards (2000) and Ross Noble (1999). We can't wait to have them back on campus! Once a Knight, Always a Knight! They will be landing the Chopper on the practice field, and fans will be able to go and see it up close. Great weather, great football vs DeKalb for blackout night and supporting our military! Get here early!

East Noble School Corporation will be on a two-hour delay on Tuesday, August 23.

Please look over the picture attached for helpful tips on how to navigate your Meal Magic account. Any questions please contact our Food Service Director or Food Service Secretary at 260-347-2502.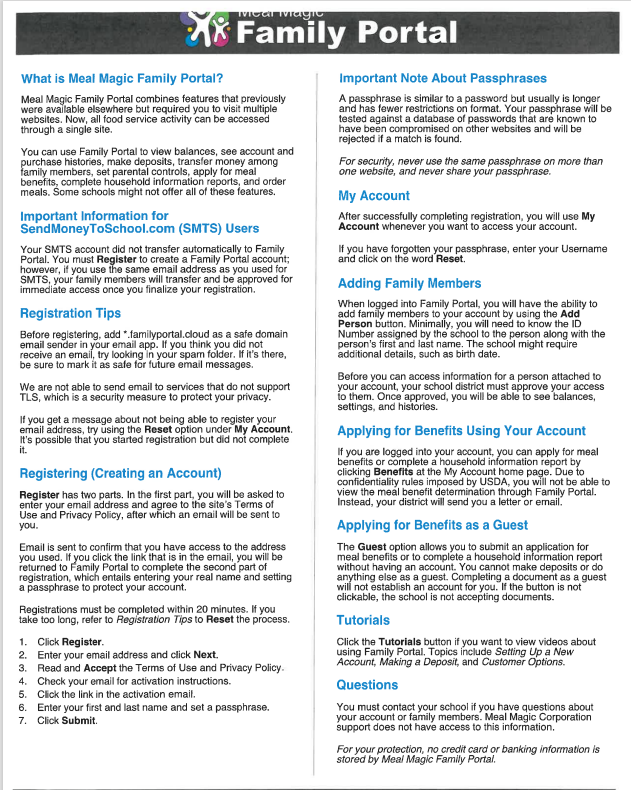 Reasearch shows that when a parent/guardian is involved with their childs school, it can positively benefit the child's health, academics, and overall wellbeing. If you are unable to attend the first PTO/PAC meeting in person, but would like to join virtually please contact Jami Hall,
jhall@eastnoble.net
to sign up for our virtual option through Zoom. Upcoming PTO/PAC Meetings: North Side Elementary August 24th- 5:30pm Rome City Elementary- August 18th- 8:30am South Side Elementary- August 16th- 4:00pm Wayne Center Elementary- August 17th- 6:00pm

School is only a few days away! Check out our latest Family Newsletter for important dates and information. As always, thanks for choosing ENSC!
https://www.smore.com/43uq7

We have been getting a lot of questions regarding our new Finger Scanner Program. Please read the letter attached from our Food Service Director for some information regarding the program and Frequently Asked Questions.

Online Registration is still open. If you have not registered yet please log into PowerSchool and register as soon as possible. This ensures that our teachers have everything ready for your child on the first day of school!

Mark your calendars for Back to School Night on August 4th from 5:30-7. This will be your chance to meet your child's teacher(s), tour the school, and drop off all of their supplies. If you still haven't registered please log in to do so as soon as possible. This will ensure your childs teacher is ready for them on the first day of school!

East Noble School Corporation is accepting applications for the following vacancy: Elementary Instructional Coach Building: North Side Elementary Full-time position to start on August 4, 2022 Requirements: • Indiana Educator's License – Elementary Education • Four or more years of teaching experience and knowledge of East Noble School Corporation elementary curriculum frameworks. • Four or more years of teaching experience and knowledge of computer, video, and web-based technologies and their integration with classroom curriculum. • Proven experience in coaching and mentoring associate staff members. Applications must include the following: • Letter of interest • Resume with references • Copy of valid Indiana Teaching Certificate Interested applicants must contact: Stephanie Leasure, North Side Elementary Principal
sleasure@eastnoble.net
260-347-1354 Visit
www.eastnoble.net
/ Menu / Employment / Active Vacancies – to see all current job postings and apply or visit the corporations applicant tracker tool:
https://www.applitrack.com/r8esc/onlineapp/_application.aspx?starting=true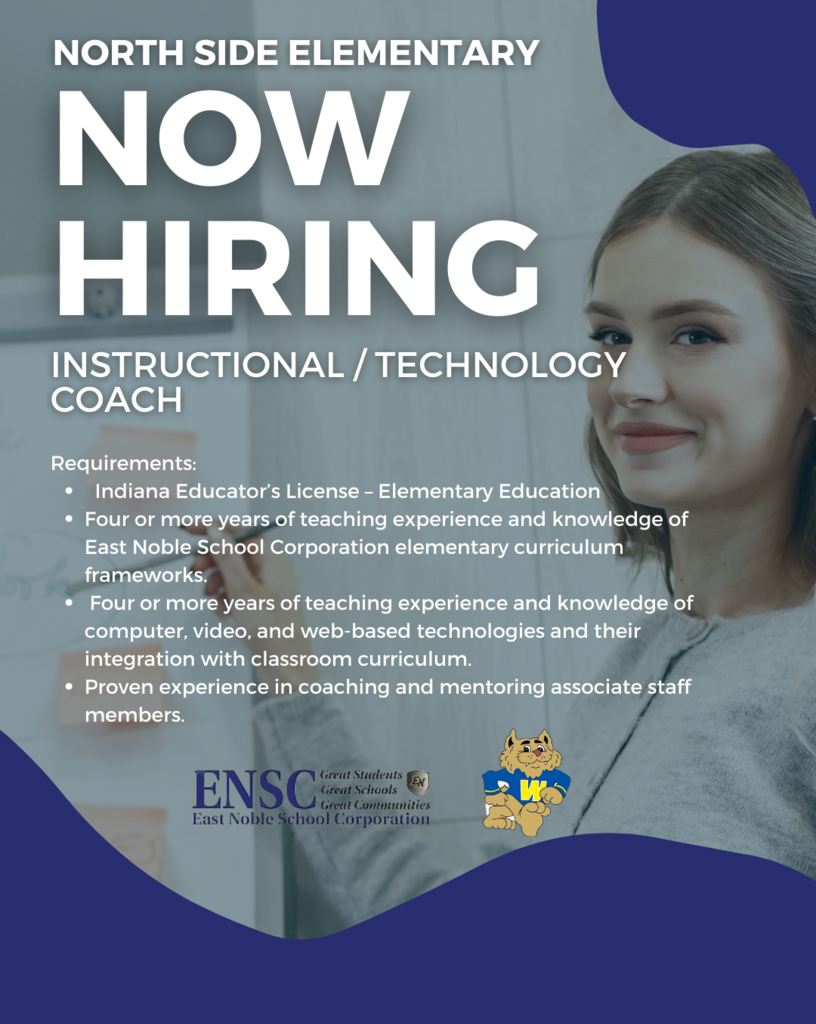 This Thursday, July 28th is our Health and Academic Screening for all incoming Kindergarteners. This FREE event will allow your child the opportunity to get a dental check, vision check, and all necessary vaccincations needed to start school. This event will be held at South Side Elementary from 5:30 - 8:00pm.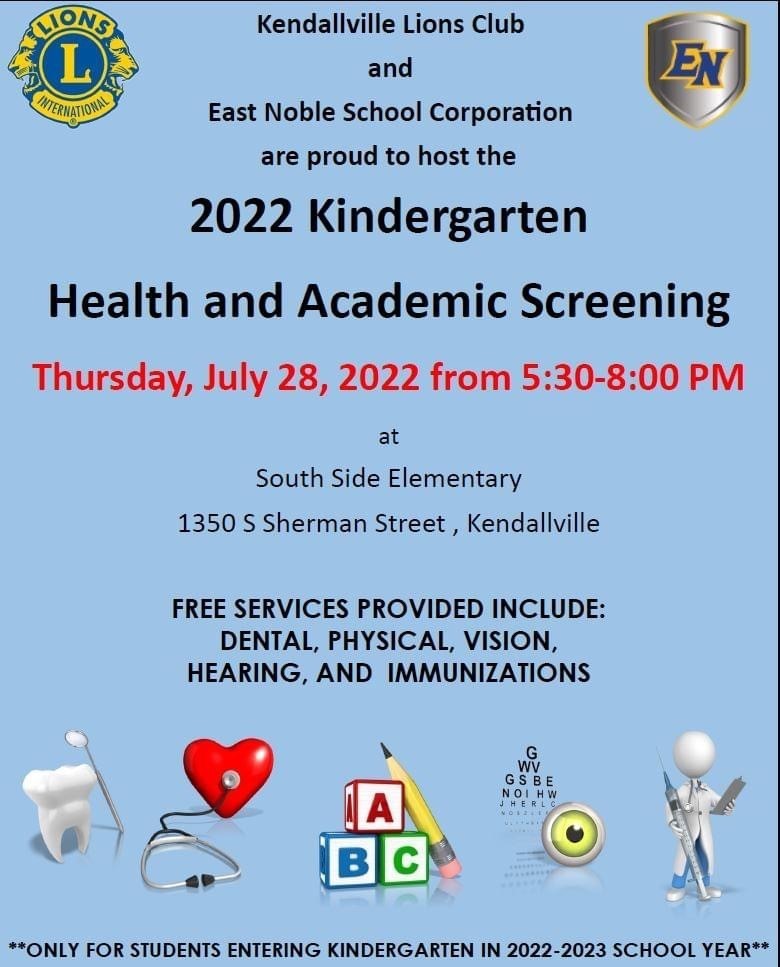 All students who were registered by midnight of last night were entered in a drawing for 1 of 3 free book rentals. Today ENSC randomly selected 3 students: Laney Ritchie, Matthew Root, and Neikken Berkey! Congratulations to our winners and thank you to everyone who submitted early registration! If you were unable to get your child registered or need assistance you can stop in from 12:00pm to 7:00pm on July 21st for on site registration.

On Site Registration will be at all of our buildings on July 21st from 12:00pm to 7:00pm.

Registration is open now! If you register before July 18th you will be entered into a drawing for FREE book rentals!

North Side Elementary is in need of a SPECIAL EDUCATION TEACHER for the 2022 school year. Applicants must have a valid IN Teacher's License with Mild Disabilities Certification. To apply, go to
https://bit.ly/3xSP4eU
or call (260)347-2548.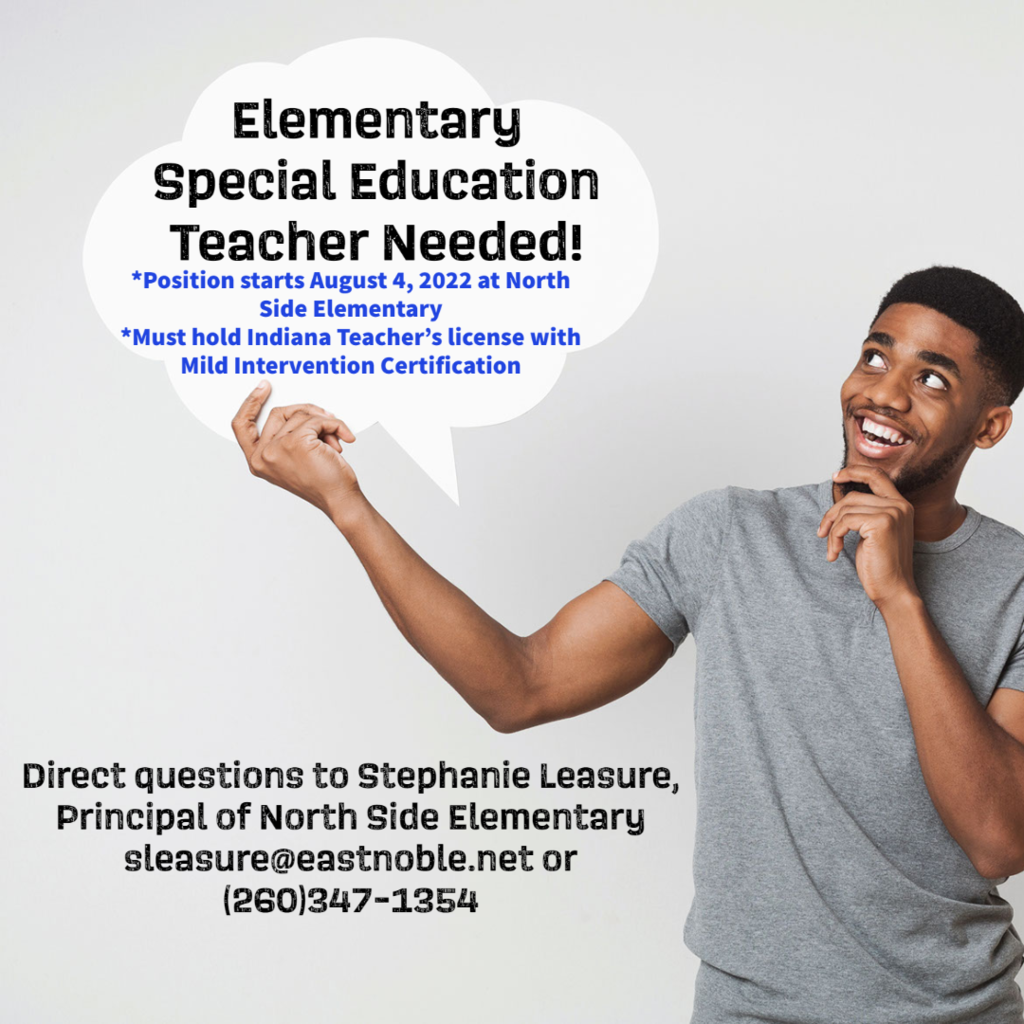 JOIN US! East Noble School Corporation is seeking a full time, second shift custodian for Rome City Elementary, starting in late July/early August. Hours are from 2:30 -11:00, M-F. Apply in person at East Noble School Corp, 126 W Rush Street, Kendallville, IN 46755.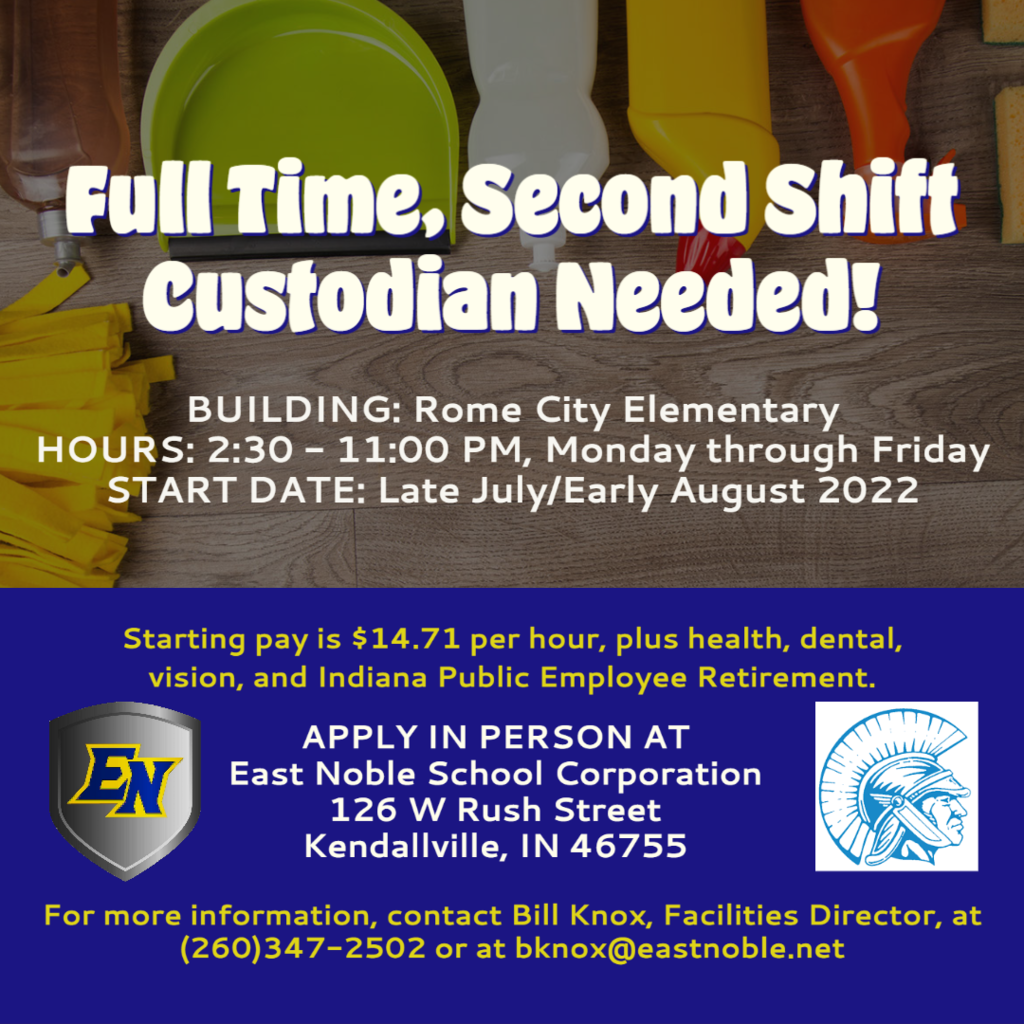 ONLINE REGISTRATION BEGINS THURSDAY! Registration letters for current students were mailed last week. Starting this Thursday, visit
https://bit.ly/3y5I7as
to begin!